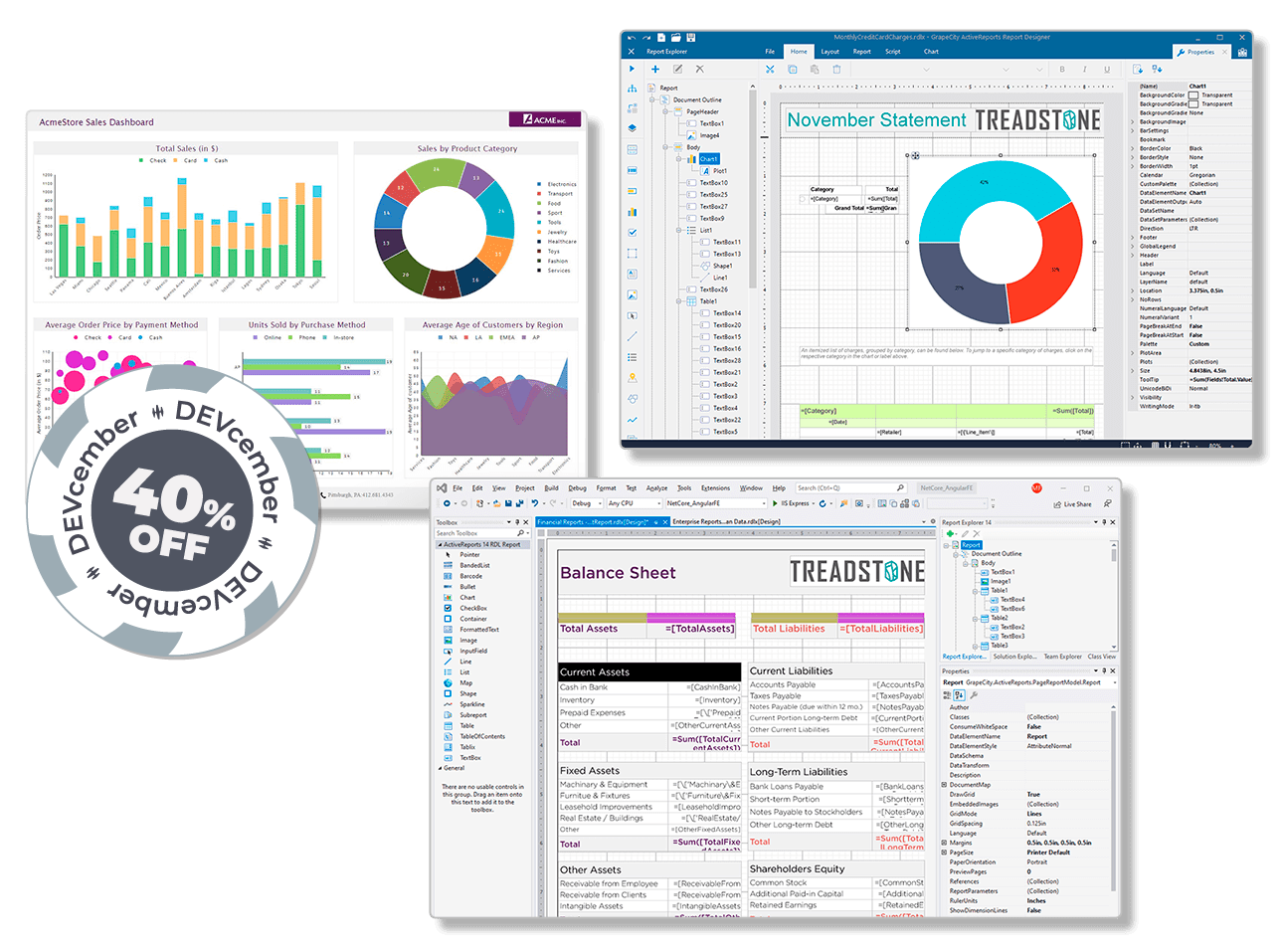 Customize Your Reports With ActiveReports.NET - The Leader in WPF Reporting Solutions
Design and deliver powerful reports with our intuitive, reliable, and user-friendly report designers, rich controls, and extensible API for .NET in WPF, WinForms, and ASP.NET MVC.
Download Free Trial
Request A Demo
Supported Technologies: WPF, WinForms, ASP.NET, ASP.NET MVC
Overview
A WPF reporting tool is a software component used for data consolidation and visualization within the Visual Studio IDE. ActiveReports.NET is a solution used by .NET developers to embed reporting within desktop applications. Major features such as flexible report designers and viewers, rich controls, and extensible API make ActiveReports.NET an industry leader.
WPF Report Viewer
Customize the WPF Report Viewer control. With the ability to add custom buttons or remove pre-built ones you are in control. Extend touch capabilities for touch-enabled monitors and screens.
Deliver To Any Device
Extend reporting to Windows, Linux, and macOS by embedding ActiveReports in your .NET Core or .NET 7 applications. Create and deliver interactive reports to any device with web and desktop applications.
WPF Report Controls
Visualize your data with a wealth of feature-packed controls such as charts, tables, tablix, barcodes, sparklines, maps, and more. Combined with multiple report types, ActiveReports provides the means to design reports for any business need.
Reliability You Can Trust
ActiveReports has been a pioneering reporting solution since 1998 by introducing the first reporting tool to work inside the Visual Basic IDE, and then the first 3rd party Visual Studio integrated designer in .NET. After almost three decades, we continue to bring you, and your users, extensive reporting experience with rich controls, advanced features, and the latest tech.
Royalty-Free Deployment
Distribute reports in your JavaScript, ASP.NET, WPF, or WinForms applications without additional licensing. Runtime royalty-free with no user fees or CALs, freely distribute the customizable end-user report designers to your users for on-demand reporting.
Plug and Play Connectivity
Create reusable connections to ODBC, OLEDB, .NET, XML, Web Services, Data Objects, and runtime data sources even if you can't write a database query. Mix multiple sources in a single project and share reports for optimal efficiency.
Our Top WPF Reporting Features
Deliver Beautifully-Designed WPF Reports in Less Time with the ActiveReports Designers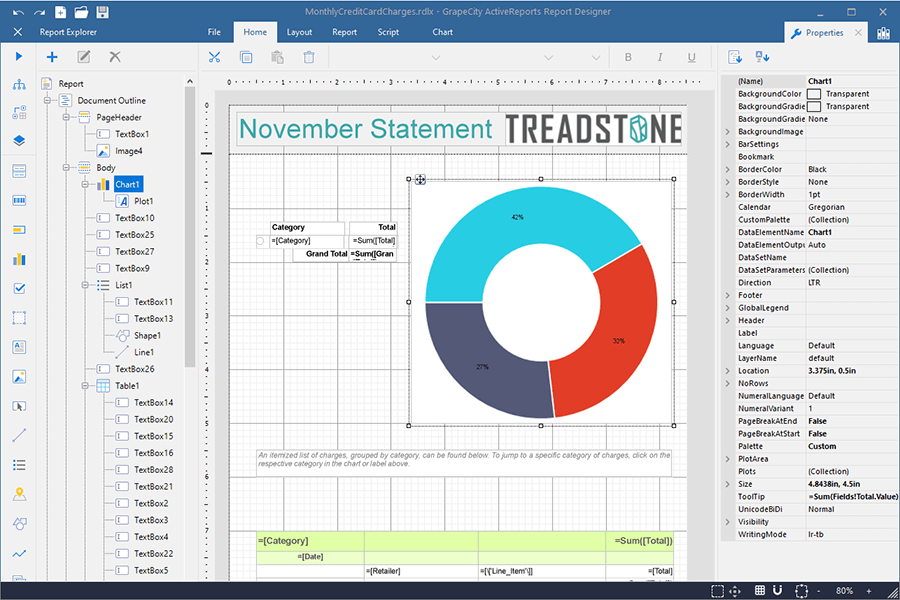 Ad hoc Report Designer for Web
This standalone WinForms app enables you to build complete design-based reports code-free and offer ad hoc report design for your end-users as a desktop application.
Easily create new reports with the drag-and-drop interface
Toolbox, Properties, Report Explorer, and Grouping panels built-in
Customize to fit your needs
Familiar, user-friendly, UI
Learn More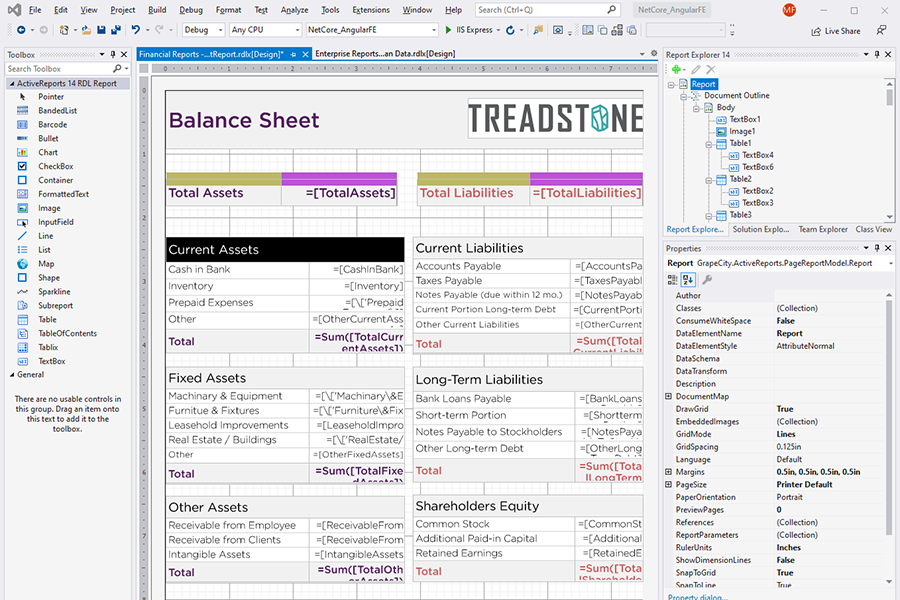 Visual Studio Integrated Report Designer
The Visual Studio-based designer includes full integration into the best WPF IDE.


Toolboxes and properties windows
Drag and drop controls to the design surface
Build code-based functions in the code behind
Available in ActiveReports Professional and Standard
View Demo
Featured Blogs and Videos
Customer Feedback and Awards
"Great software as always!"
BRIAN GOODRICH
"The GrapeCity products provide the tools my team needs."
BARRY BRINSON
"I cannot imagine developing reliable, robust, business applications without ActiveReports!"
JIM BULLINGTON
"When I run into complex problems, I turn to my ComponentOne Studio Enterprise toolbox."
KEN SPENSER, MICROSOFT REGIONAL DIRECTOR - FRAMEWORK MASTERS
"I love to use C1 components! I can be confident that if I need to do a particular task, ComponentOne will have the control to do the job."
SILV SORDELLO, SOFTWARE DEVELOPER
"As an ISV, I need tools that allow me to be competitive. Therefore, it's a must to use reliable and stable tools for customized solutions...ComponentOne provides all that to me and even more!"
DENNIS WALLENTIN, MICROSOFT MVP (EXCEL)
"Easier to use right off the bat. I liked using the Scheduler for drag-and-drop capability."
MICHELLE GIBSON, SOFTWARE ENGINEER