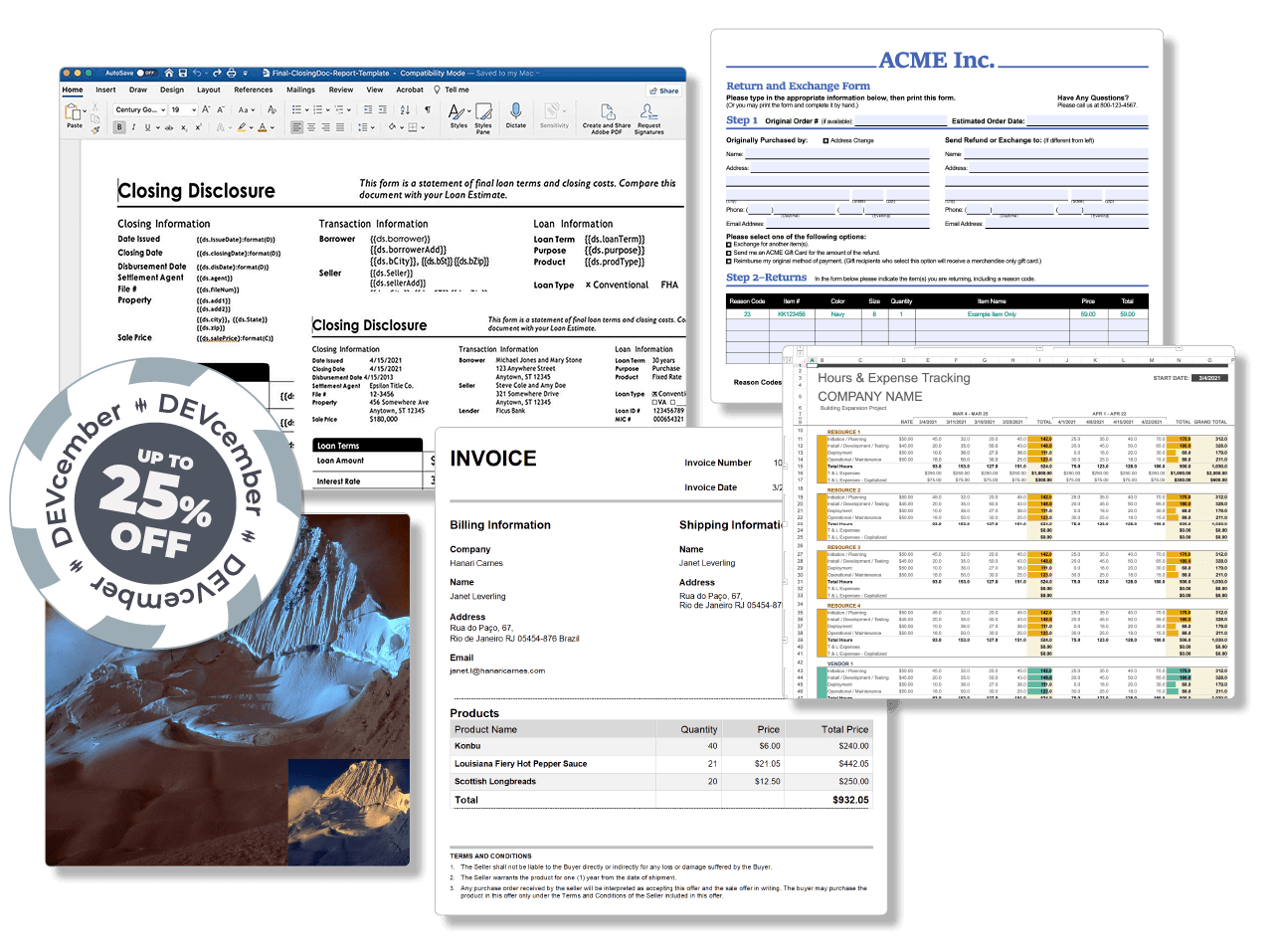 Fast, Efficient Document APIs for .NET 6+ and Java Applications
Take total control of your documents with ultra-fast, low-footprint APIs for enterprise apps.
Generate, load, edit, save XLSX spreadsheets, PDF, Images, and DOCX files using C# .NET, VB.NET, or Java
View, edit, print, fill and submit PDF documents in JavaScript PDF viewer and PDF editor
Open and view data documents (XLSX, CSV) and SpreadJS files in a JavaScript Data Viewer
Compatible with Windows, macOS, and Linux
No dependencies on Excel, Word, or Acrobat
Deploy to a variety of cloud-based services, including Azure, AWS, and AWS Lambda
Product available individually or as a bundle
Download Free Trials
Latest Release Info
What's New in Document Solutions v6.2
Document Solutions' Server-Side Products
JavaScript Document Viewers
Benefits of Our Document APIs
High-Speed, Small Footprint, No Dependencies
The .NET 6+ document APIs are designed to generate large, optimized documents fast – while remaining lightweight and extensible, giving you greater flexibility, and creativity in developing your applications
Full .NET Support for Windows, Linux, and macOS
Develop for any .NET platform or major operating system with a single code base. Use in your apps for .NET, C#, VB.NET .NET Framework, Mono, Xamarin.iOS, and Xamarin.Android.
Comprehensive, Highly Programmable
Do more with your Excel spreadsheets, Word documents, PDFs, and images with our feature-rich APIs. Create, load, edit, save and convert your business documents with intuitive tools.
Zero Dependencies
Generate and edit digital documents in your applications without any dependencies on Adobe Acrobat, Microsoft Word, or Excel. Build your documents even faster with zero dependencies.
Deploy Apps to the Cloud
Be everywhere with cloud-based deployment using NuGet and Document Solutions. You can now deploy to Azure, AWS, and AWS Lambda in a few short steps.
Supports Hundreds of Features
Generate full-featured documents and nearly lossless imports! These APIs complete your toolkit through high-performance features, including Excel pivot tables, PDF digital signatures, and Word text comments.
Try the Document API Demos
The Support You Need When You Need It
Expert Support Is Included
Direct access to developers who will work with you to resolve any issue
Customer satisfaction rating is 85% and climbing
Trusted by the World's Leading Companies

"The speed to build what we needed and the level of ease of use of controls are why we chose GrapeCity [now known as MESCIUS]. It was a perfect fit."
Spiro Skias - CGI