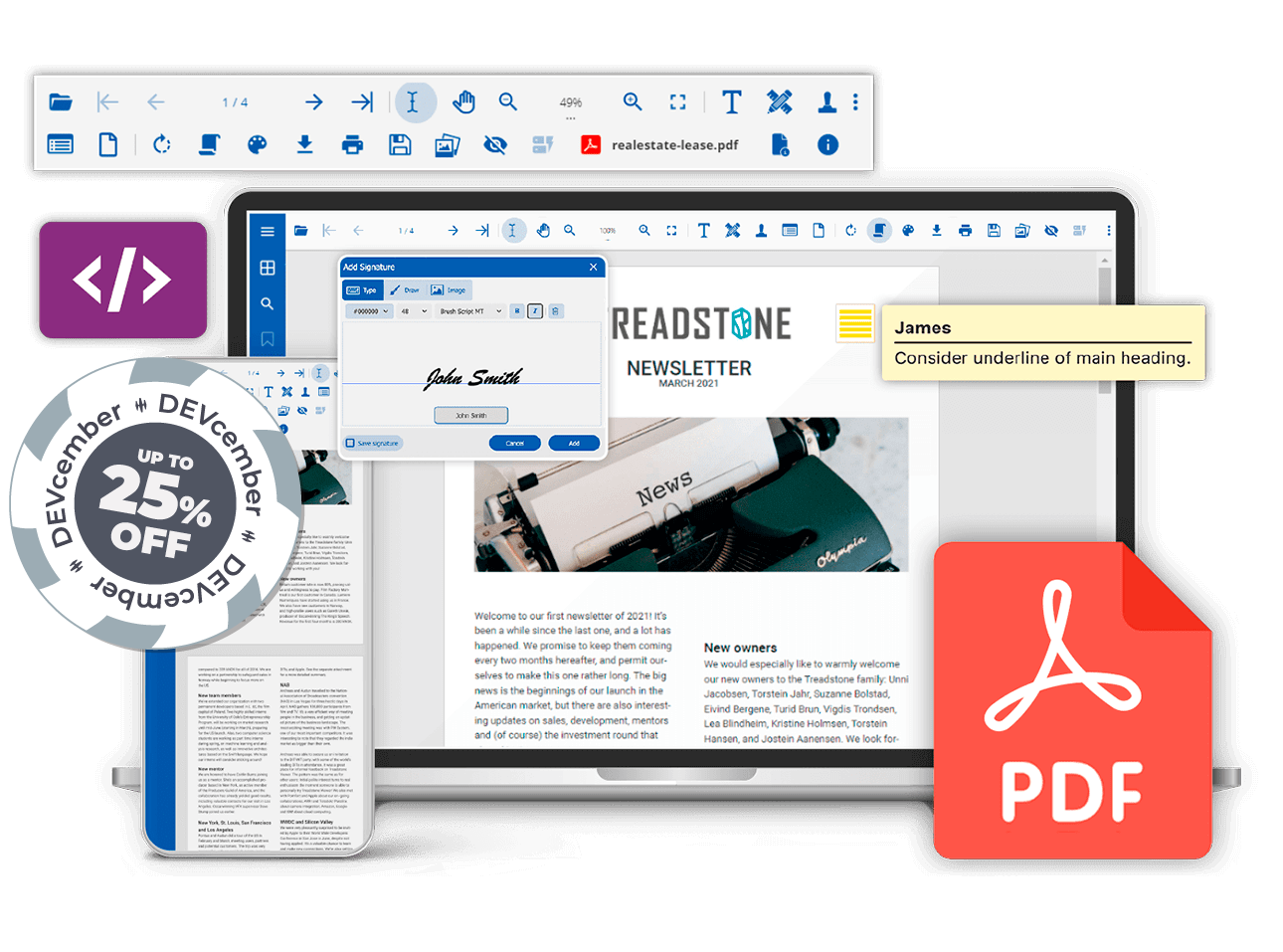 Cross-Platform JavaScript PDF Viewer
Read and edit PDFs on the web with our JavaScript PDF Viewer. Open and print across browsers and frameworks.
Full-featured JavaScript PDF viewer and PDF editor
Works in all modern browsers and frameworks, including Edge, Chrome, Firefox, Opera, Safari, React, Vue, Preact, and Angular
Edit, design, fill, submit, reset, and print filled PDF forms
Save modified PDF documents on the client
Included with Document Solutions for PDF
Download Free Trial (v 6.2.5)
A JavaScript PDF Viewer is a software component used to read and edit PDF documents in web applications. The Documents Solutions PDF Viewer (DsPdfViewer) allows developers to view and edit PDF documents across browsers using major JavaScript frameworks.
Benefits of a JavaScript PDF Viewer
Cross-Platform JavaScript Viewer
A cross-platform solution to view PDF documents on Windows, MAC, Linux, iOS, and Android devices in all modern browsers.
Supported Viewer Features
Supports popular document viewer features to view and navigate through various documents.
Web Framework Support
Embed the JS PDF viewer in any of the major web frameworks–Angular, Vue, ASP.NET Core, ASP.NET MVC, HTML5, React, and Preact.
Advanced Text Search
Search long documents with specific search terms or patterns. Match case, whole word, starts with, ends with, proximity search, and wildcard search are supported.
Support Advanced PDF Specification Features
Open and view attachments from viewer, navigate through outlines, page labels, article threads, and optional content group (layers). 
Integrate with Document Solutions for PDF (DsPdf)
Utilize the power of our server-side API. With DsPdf and the client-side DsPdfViewer, you can achieve full-fledged PDF needs for your application.
Supported Editor Features
Edit PDF documents with annotations, design PDF forms, and modify existing PDF documents with advanced editing options.
Explore the Advanced Features of a JavaScript PDF Viewer
Document Solutions PDF Viewer's Licensing Options
The Document Solutions PDF Viewer (DsPdfViewer) introduces an option for viewer licenses. Users can now upgrade to the Professional Viewer License, enabling features such as document editing, PDF form-filling, and collaborative editing capabilities. The Standard Viewer License is included with the purchase of Document Solutions for PDF (DsPdf) and comes with all standard features, including PDF viewing, searching, and more.
A more detailed comparison is below and helps determine what DsPdfViewer license plan is the best option for you.
Standard Viewer License
The Standard DsPdfViewer License is included with every DsPdf license purchase. It's features support view functionalities including:
Professional Viewer License
The Professional DsPdfViewer License requires a DsPdf license and an additional fee to access the edit features and additional functionalities including:
The Professional DsPdfViewer features require the use of a SupportApi property and must connect to a server.
Learn how to configure the Professional DsPdfViewer here.
The Professional DsPdfViewer is licensed per each separate Hostname. Subdomains are also considered separate Hostnames. Available purchasing options include:
Internal or Non-Commercial Deployment
One (1) Single Hostname
Single Domain (*.domain)
Commercial and SaaS Deployment
Single Hostname, Single Domain (*.domain) or SaaS *.domain
Unlimited Domains or SaaS (*.* wildcard)
Trusted by the World's Leading Companies

"The speed to build what we needed and the level of ease of use of controls are why we chose GrapeCity [now known as MESCIUS]. It was a perfect fit."
Spiro Skias - CGI