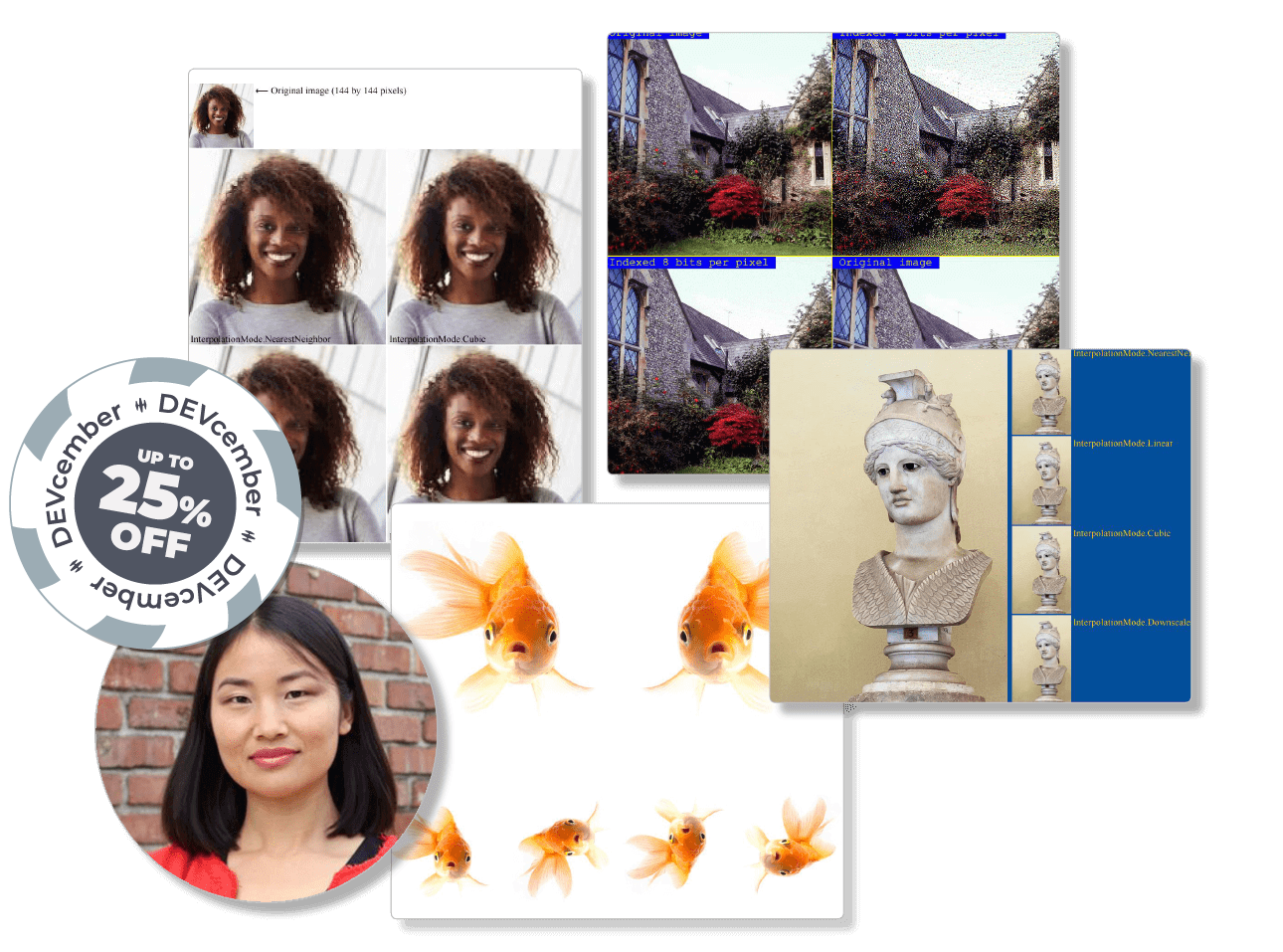 Fast, Powerful Imaging API Library for .NET 6+
Document Solutions for Imaging (DsImaging, previously GcImaging) allows you to programmatically apply advanced image processing with zero dependencies.
Load and save image files like BMP, JPEG, TIFF, GIF, ICO, SVG, WebP, and PNG
Apply advanced processing effects like dithering and thresholding on grayscale and RGB images
Draw graphics, add advanced text with full font handling, and paragraph formatting to images
Compatible with Windows, macOS, and Linux
Deploy locally, inhouse or to Cloud including Azure and AWS
Includes a JavaScript Image Viewer to view and edit images on the client-side
DOWNLOAD FREE TRIAL (V 6.2.5)
A .NET Imaging API is a programming interface that allows developers to programmatically create and manipulate images at scale. Document Solutions for Imaging (DsImaging) is a solution allowing developers to load, process, and save images across many different formats in desktop and web-based applications.
Benefits of a C# .NET Imaging API
Fast and Efficient
Save memory with the small file size and time with the lightweight API architecture. Scalable, flexible, efficient, and fast to handle small and large TIFFs at top speed. Integrate with a JavaScript client-side Image Viewer to load, view, edit and save images.
Image Processor
Meet all the needs of a basic image processor: resize, convert, rotate, and flip images. Create, apply, and align the images in your apps that you need when you need them.
Advanced Image Effects
Convert average images into high-quality, detailed images in less time. Apply advanced image effects like dithering, thresholding effects, half-tone transparencies, resolution editing, grayscale conversion, effects on RGB images, and more.
Text and Graphics
Dynamically enhance your images with logos and text. With extensive font, layout, and graphic support, you can convert your images into branding elements and professional pages.
Full .NET Core Support
Develop for any .NET platform or major operating system like Windows, Linux, and Mac with a single code base. Use in your apps for .NET Core, .NET Framework, Mono, Xamarin.iOS, and Xamarin.Android.
Image Processing to the Cloud
Be everywhere with cloud-based deployment. With NuGet and DsImaging, you can deploy to Azure, AWS, and AWS Lambda to create services that manage and convert images on the cloud.
Our Top C# .NET Imaging API Features
Document Solutions Image Viewer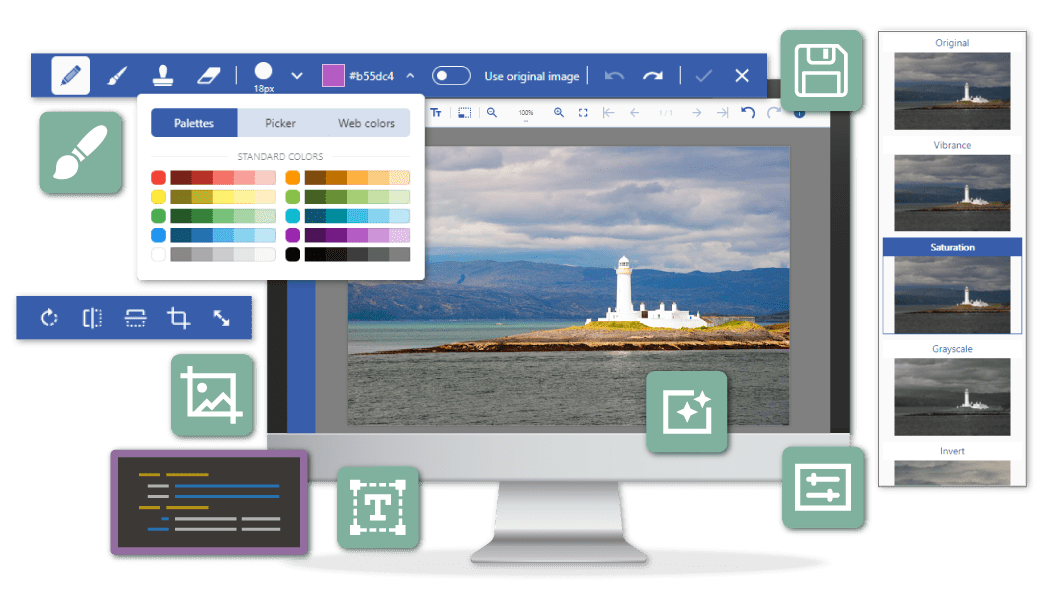 Check out the image editing tools: crop, resize, flip, rotate and other awesome features in Document Solutions Image Viewer (DsImageViewer); helping you create a full-featured workflow to load, edit and save images in your applications.
Learn More
View Demos
Explore the Advanced Features of the .NET Imaging API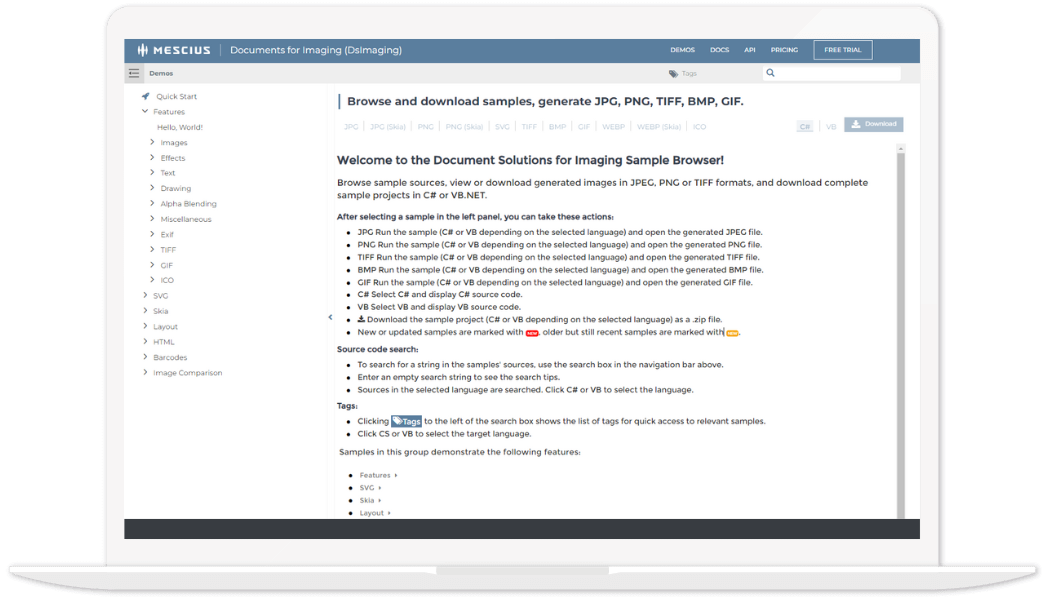 Your full-fledged ASP.NET Core sample browser includes all significant features, real-time image files, and use-cases. Download individual .NET Core samples that can run as a standalone. Demos include full sample code with comments to quickly bring you on board with Document Solution for Imaging. The demos now use the new Document Solutions Image Viewer. Click the button below to learn more.
LAUNCH FULL DEMO
Trusted by the World's Leading Companies

"The speed to build what we needed and the level of ease of use of controls are why we chose GrapeCity [now known as MESCIUS]. It was a perfect fit."
Spiro Skias - CGI