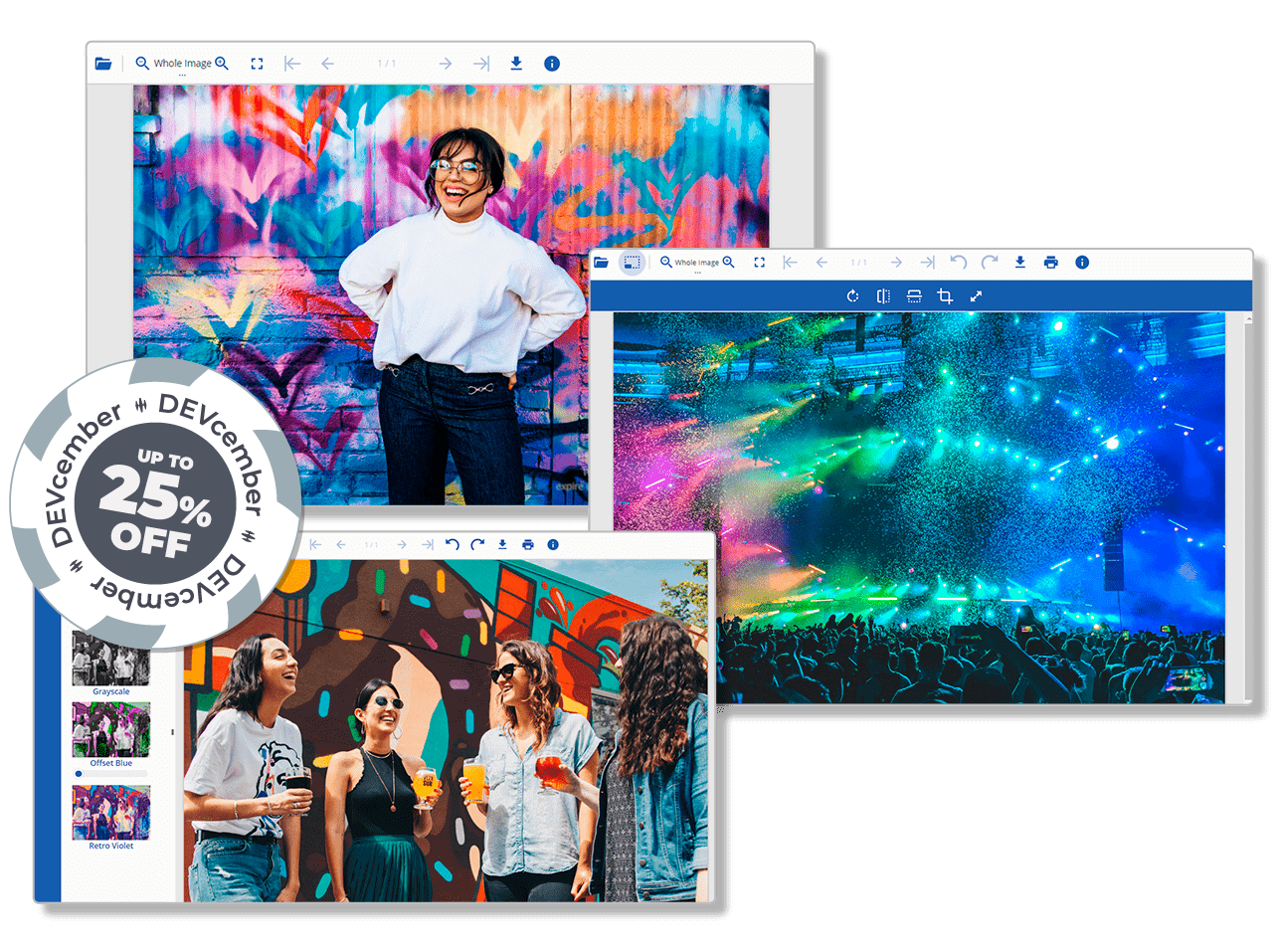 Cross-Platform JavaScript Image Viewer
Allow users to view and edit images in your web applications with our JavaScript image viewer. 
Multiple image formats supported
Works in all modern browsers and frameworks, including Edge, Chrome, Firefox, Opera, Safari, React, Preact, Vue, and Angular
Crop, resize, flip and rotate images
Draw freehand strokes/text on images using paint/text tools
Enhance images by applying filter effects
Plugin support to add or remove image editing tools
Save modified image files on the client
Included with Document Solutions for Imaging
Download Free Trial
Overview
The Document Solutions Image Viewer (DsImageViewer) is a JavaScript component that allows developers to view and edit image files across browsers using major JavaScript frameworks.
Benefits of a JavaScript Image Viewer
Cross-Platform
A cross-platform solution to view image files on Windows, macOS, Linux, iOS, and Android devices in all modern browsers.
Multiple Image Formats Supported
View and edit multiple image formats including JPEG, PNG, GIF, TIFF, ICO, WEBP, SVG, BMP. Also, navigate between frames for multi-frame GIF and TIFF images.
Plugin Support
Add or remove edit functionalities to a JavaScript image viewer as per user requirement through various plugins such as Page Tools and Image Filters.
Web Framework Support
Embed the image viewer in any of the major web frameworks–Angular, Vue, ASP.NET Core, ASP.NET MVC, HTML5, React, and Preact.
Integrate with Document Solutions for Imaging (DsImaging)
Utilize the power of our server-side API. With DsImaging and the client-side JavaScript image viewer, you can create a new image or edit an existing one.
Supported Editor Features
Edit and modify existing image files by using various edit options such as crop, resize, rotate, flip and even apply image filters or draw text and freehand strokes on images.
Explore the Advanced Features of a JavaScript Image Viewer
Each main feature demo link listed below contains several demos that show how to use a particular feature. Click a link to learn more.
Document Solutions Image Viewer's Licensing
The Document Solutions Image Viewer (DsImageViewer)'s license is included with the purchase of Document Solutions for Imaging and comes with all features, including image viewing, editing, and more.
Trusted by the World's Leading Companies

"The speed to build what we needed and the level of ease of use of controls are why we chose GrapeCity [now known as MESCIUS]. It was a perfect fit."
Spiro Skias - CGI