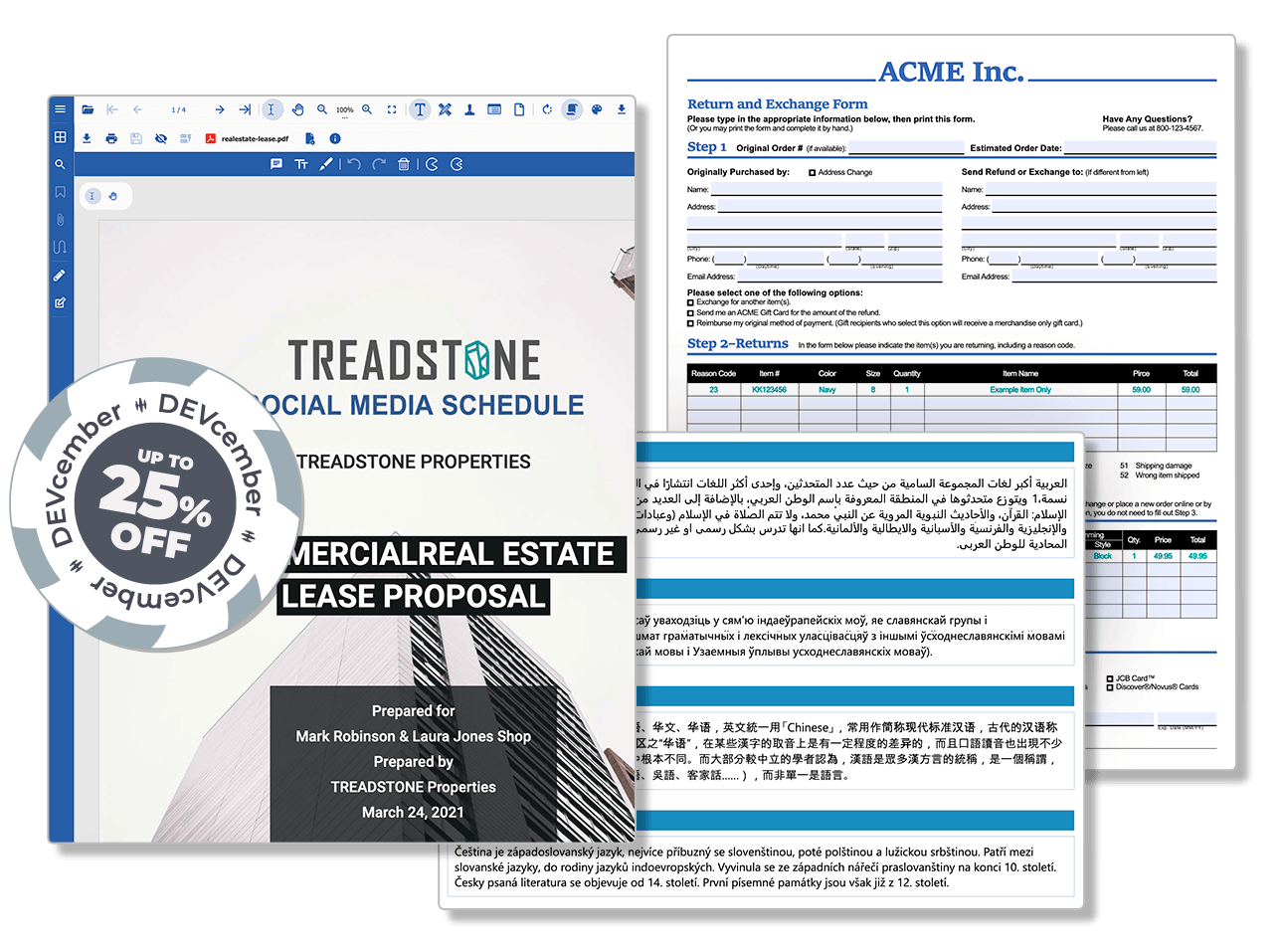 Feature-Rich C# .NET PDF API Library for Total Document Control
Document Solutions for PDF (DsPdf, previously GcPdf) allows you to generate documents with speed, memory efficiency with no dependencies.
Generate, load, edit, and save PDF documents in C# .NET
Support multiple languages with full text, paragraph formatting, and fonts
Redact content from PDFs with the new redaction tool
Support hundreds of PDF features
All features are fully supported on Windows, macOS, and Linux
Includes a JavaScript PDF Viewer to view and optionally edit PDFs on the client-side
Download Free Trial (v 6.2.5)
A C# .NET PDF document API library allowing developers to programmatically create and manipulate PDF documents at scale. Document Solutions for PDF (DsPdf) allows developers to import/export, create AcroForms (PDF Forms), and deploy PDFs across desktop and web applications.
Benefits of a C# .NET PDF API
Fast and Efficient
Save memory and time with the lightweight API architecture to generate and work with PDF documents in C# .NET effortlessly.
Comprehensive API for Adobe PDF
Generate, edit, and store feature-rich PDF documents without compromising design or features. This API conforms to Adobe PDF specification 2.0. Provides a client-side JavaScript PDF Viewer.
Complete Text Support
DsPdf includes text and paragraph formatting, special characters, multiple languages, RTL support, and vertical and rotated text for all supported platforms.
Feature-Rich API
Generate PDF forms with everything from signatures to security features. You can add, delete, copy and move pages, change page sizes, orientation, generate linearized PDFs, add annotations, redact content from PDF documents, and compress PDF files.
Full .NET Support for Windows, Linux, and MacOS
Develop for any .NET platform and major operating systems with a single code base. Use in your apps for .NET Core, .NET Framework, Mono, Xamarin.iOS, and Xamarin.Android.
Deploy Apps with PDFs to the Cloud
Cloud-based deployment means you can be everywhere. With NuGet and DsPdf, you can deploy to Azure, AWS, and AWS Lambda.
Client-Side and Server-Side PDF Solution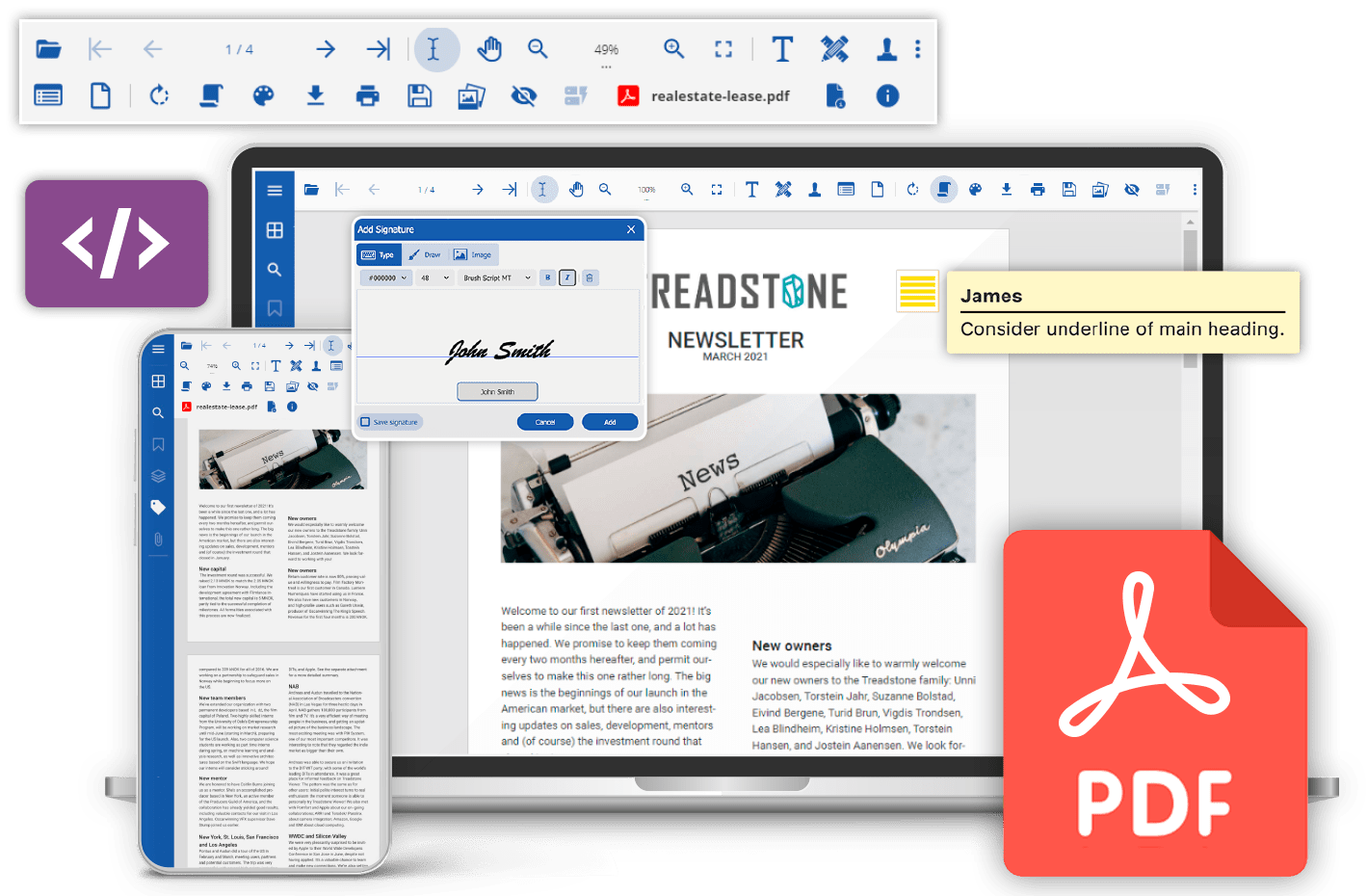 DsPdf comes with a Standard license for Document Solutions  JavaScript PDF Viewer (DsPdfViewer). Together they are a powerful PDF solution that provides robust functionality for both client-side and server-side PDF processing.
With DsPdf, users can easily create, modify, and manipulate PDF documents programmatically on the server-side using the .NET platform.
DsPdfViewer offers a feature-rich and customizable PDF viewer for client-side PDF viewing. The DsPdfViewer also offers a Professional license enabling features such as document editing, PDF form-filling, collaborative editing capabilities, and much more.
Learn More
Try Demos
Our Top C# .NET PDF API Features
Visit Our C# .NET PDF API Samples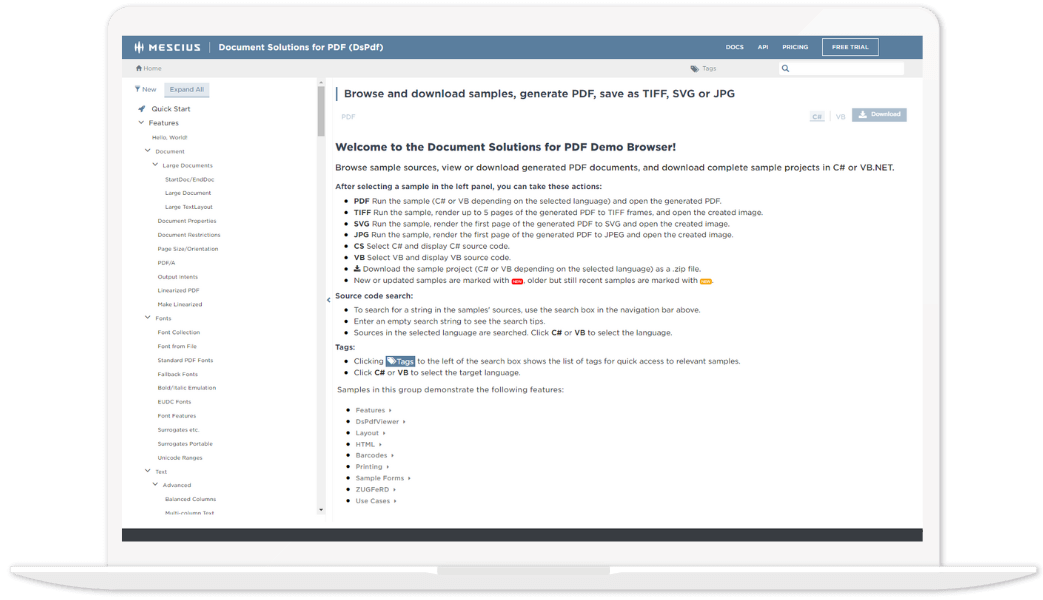 Your full-fledged ASP.NET Core sample browser includes all major features, real-time PDFs, and use cases. These PDF files are generated using server-side code with DsPdf and loaded in the JavaScript client-side Document Solutions PDF Viewer. You can download individual .NET Core samples that can run as standalones in C# and VB.NET. The demos also include full sample code in C# and VB with comments along each step for quick onboarding.
Launch the demo
Trusted by the World's Leading Companies

"The speed to build what we needed and the level of ease of use of controls are why we chose GrapeCity [now known as MESCIUS]. It was a perfect fit."
Spiro Skias - CGI