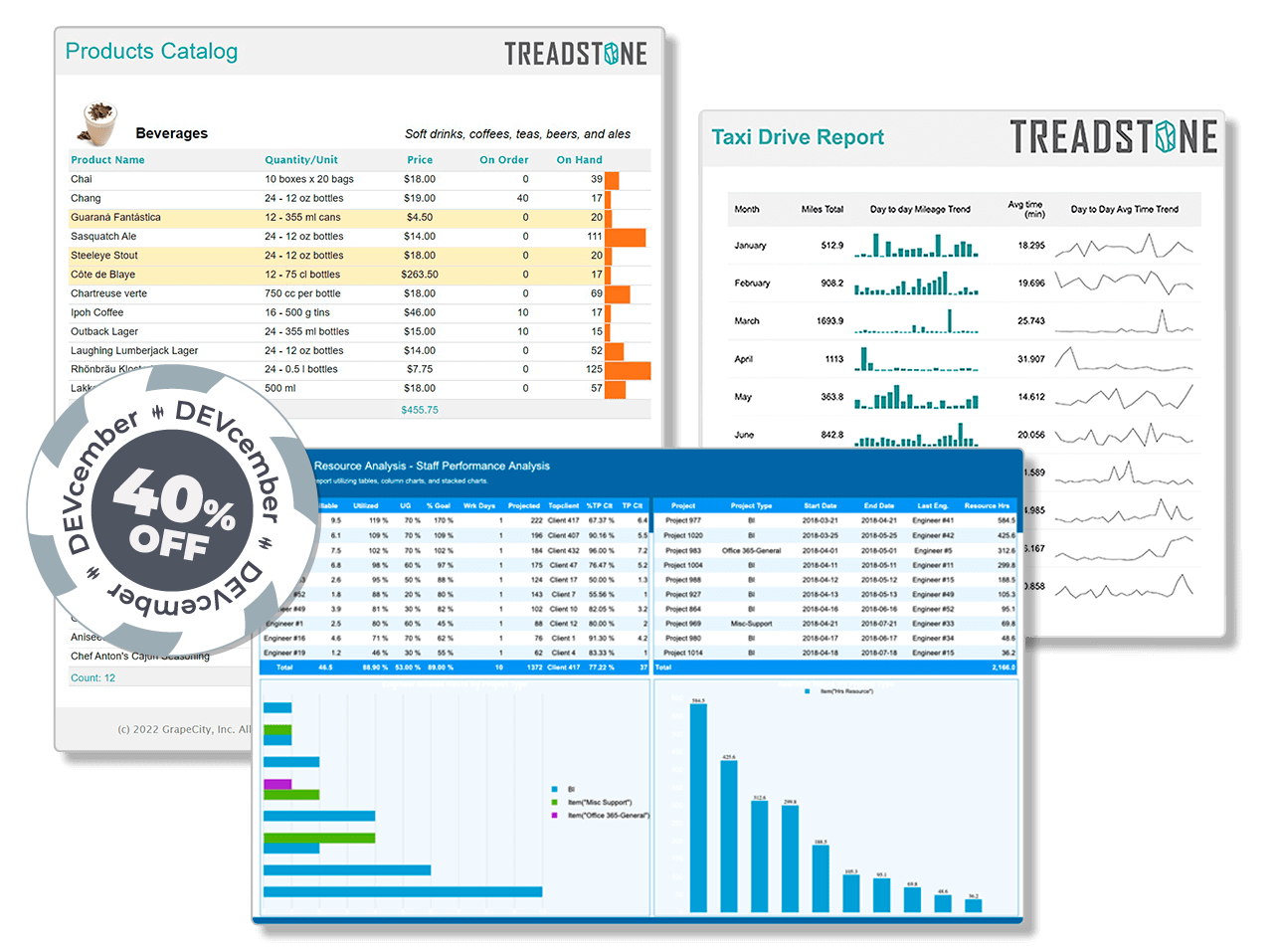 Linux Hosted Reporting
Deploy rich .NET reports on Linux OS quickly and without the need for complicated system configurations.
Download Free Trial
Request A Demo
No reliance on libgdiplus (GDI+) with Page and RDL report types
WYSIWYG cross-platform text rendering, printing, and exporting every time
Access fonts without installation with Page and RDL report types
Easily integrated into DevOps
Quick deployment under Azure WebApps on Linux - without special configurations
Overview
A Linux reporting tool is a software component used for data consolidation and visualization within the Visual Studio IDE. ActiveReports.NET is a solution used by Linux developers to embed reporting within web and desktop applications. Major features, such as flexible report designers and viewers, rich controls, and extensible API, make ActiveReports.NET an industry leader.
Report Designers
Empower users to create reports on demand by embedding the fully customizable End-User Report Designers in your web or desktop applications. Our intuitive designers are easy to use for technical and non-technical report authors.
Reliability You Can Trust
ActiveReports has been a pioneering reporting solution since 1998. It introduced the first reporting tool to work inside the Visual Basic IDE and then the first third-party Visual Studio integrated designer in .NET. After almost three decades, ActiveReports.NET is the first third-party vendor to offer full Linux support for RDL and Page reports—without relying on GDI.
Royalty-Free Deployment
Distribute reports in your ASP.NET applications on Linux without additional licensing or fees. Experience royalty-free runtime with no user fees or CALs and freely distribute the customizable end-user report designers for on-demand reporting.
No GDI+ Dependence
Host your reporting app on Linux OS without depending on GDI+ or complicated system configurations—all while delivering pixel-perfect rendering.
Deliver Beautifully-Designed .NET Reports in Less Time with the ActiveReports Designers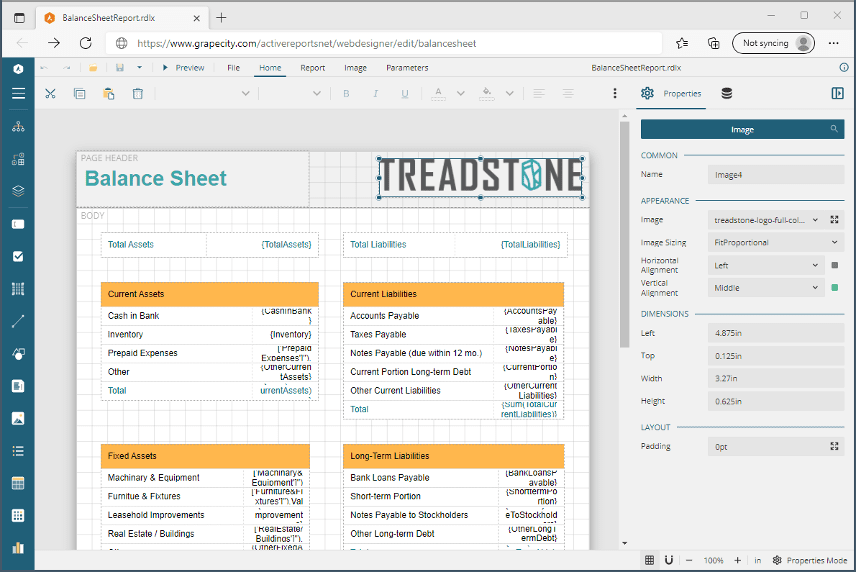 Ad hoc Report Designer for Web
These embeddable components enable you to build complete design-based reports code-free and offer ad hoc report design for your end-users in your web and desktop apps.
Easily create new reports with the drag-and-drop interface
Customize to fit your needs
Toolbox, Properties, Report Explorer, and Grouping panels built-in
Familiar, user-friendly, UI
Learn More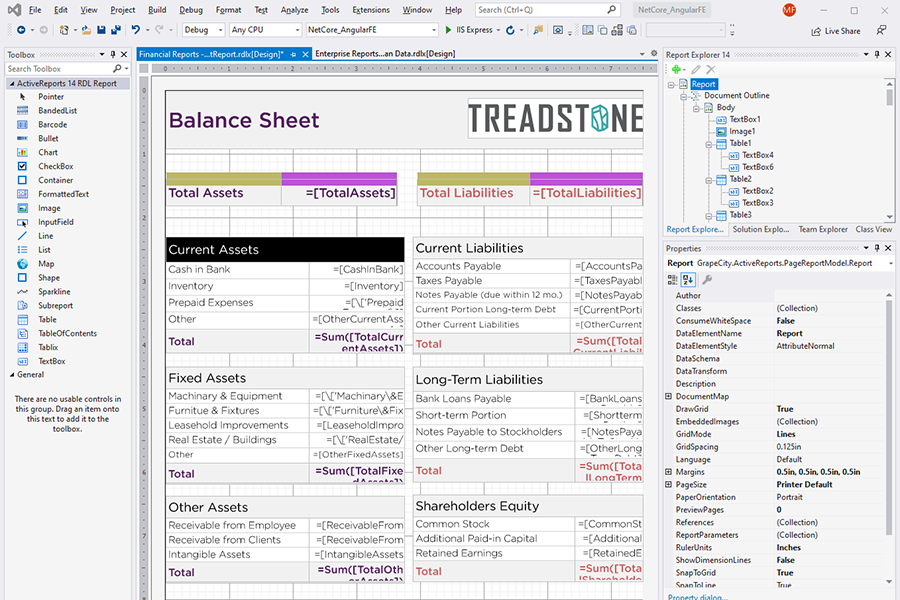 Visual Studio Integrated Report Designer
The Visual Studio-based designer includes full integration into the best .NET IDE.


Toolboxes and properties windows
Drag and drop controls to the design surface
Build code-based functions in the code behind
Available in ActiveReports Professional and Standard
View Demo
Our Top Linux Reporting Features
Featured Blogs and Videos
Customer Feedback and Awards
"Great software as always!"
BRIAN GOODRICH
"The GrapeCity products provide the tools my team needs."
BARRY BRINSON
"I cannot imagine developing reliable, robust, business applications without ActiveReports!"
JIM BULLINGTON
"When I run into complex problems, I turn to my ComponentOne Studio Enterprise toolbox."
KEN SPENSER, MICROSOFT REGIONAL DIRECTOR - FRAMEWORK MASTERS
"I love to use C1 components! I can be confident that if I need to do a particular task, ComponentOne will have the control to do the job."
SILV SORDELLO, SOFTWARE DEVELOPER
"As an ISV, I need tools that allow me to be competitive. Therefore, it's a must to use reliable and stable tools for customized solutions...ComponentOne provides all that to me and even more!"
DENNIS WALLENTIN, MICROSOFT MVP (EXCEL)
"Easier to use right off the bat. I liked using the Scheduler for drag-and-drop capability."
MICHELLE GIBSON, SOFTWARE ENGINEER