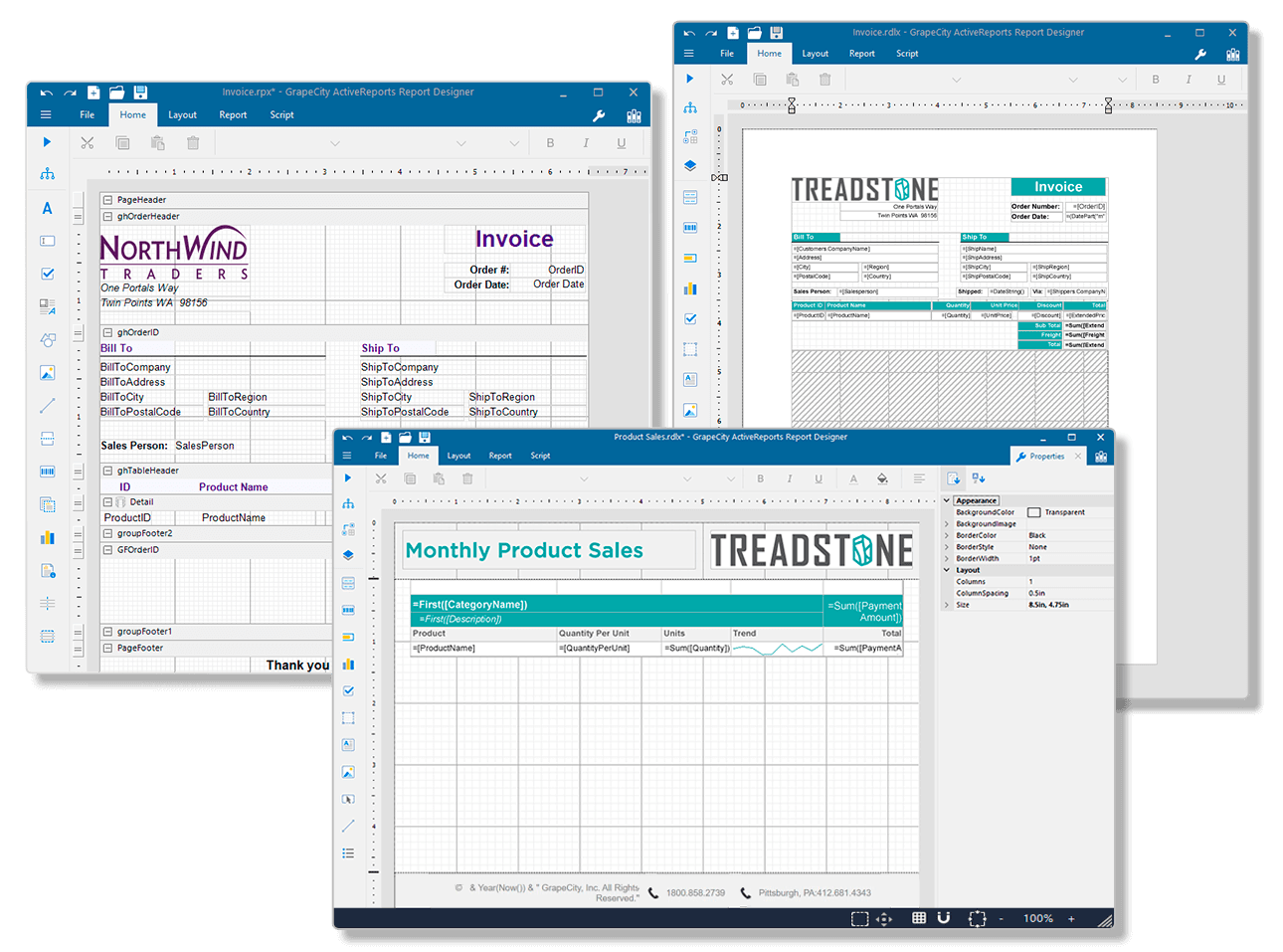 The Premier .NET Ad Hoc Report Designer for Desktop Applications
The End-User Reporter Designer for Desktop is an embeddable component available for WinForms applications. The End-User Report Designer brings a rich report design functionality to your desktop applications. As a customizable component, you can fully integrate the designer into your application and add only the functionality you want your users to have for ad hoc report design.
Easily create new reports with built-in drag-and-drop functionality, snap lines, and guides
Give deeper insight into your data with rich interactivity such as drill-down, drill-through, sorting, and more
Flexible API for advanced control and customization
Office-inspired UI brings a familiar simplicity for ease of use
Download Free Trial
ActiveReports WinForms Report Designer
Empower your end users to create powerful ad hoc reports with the simple to use report designer for WinForms. Your users can view, edit, and create complete design-based, code free, .NET reports all in a single application. As a developer, you can easily create a customized End-User Report Designer with our modularized designer controls. Distribute your ad hoc report designer application to your end users without additional fees or royalties.
ActiveReports.NET End-User Report Designer Provides Customization and Control
Option to customize both the theme and user actions. Be in complete control over what your users see and manage their access to report properties and designer components.
Define User Access to
Saving Reports
Overriding Reports
Data Sources
Datasets
File Menu
Preview options
Printing
Downloading and Exporting
Your end-users will have the freedom to create and change a report's layout while you control their access based on logic in your application.
Flexible Data Binding
The End-User Report Designer component supports all classic and modern data sources, including SQL, JSON, XML, CSV, and more.
Supported .NET Reporting Controls
The End-User Report Designer component features the following controls: Table, Tablix, Charts, FormattedText, Barcodes, Bullet, Sparkline, and Lists among others.
Customer Feedback and Awards
"Great software as always!"
BRIAN GOODRICH
"The GrapeCity products provide the tools my team needs."
BARRY BRINSON
"I cannot imagine developing reliable, robust, business applications without ActiveReports!"
JIM BULLINGTON
"We chose ActiveReports due to its full feature set, friendly licensing model for web-based applications, and ease of development."
AARON CHRISTIAN, DIRECTOR OF SOFTWARE DEVELOPMENT, ORION HEALTHCARE TECHNOLOGY
"I cannot imagine developing reliable, robust, business applications without ActiveReports!"
JIM BULLINGTON, JAMES BULLINGTON CONSULTING SERVICES
"Ease-of-use and the ability to have multi-level subreports were the two main considerations. ActiveReports stood head and shoulders above the other three products."
ROD PICK, SOFTWARE DESIGNER & IT MANAGER, MELMARC PRODUCTS
"The uniqueness of the ActiveReports products has helped to boost our sales which is always a good thing."
WENDY MATHIS, SOFTWARE ENGINEER, KNOWLEDGE RELAY
Trusted by the World's Leading Companies