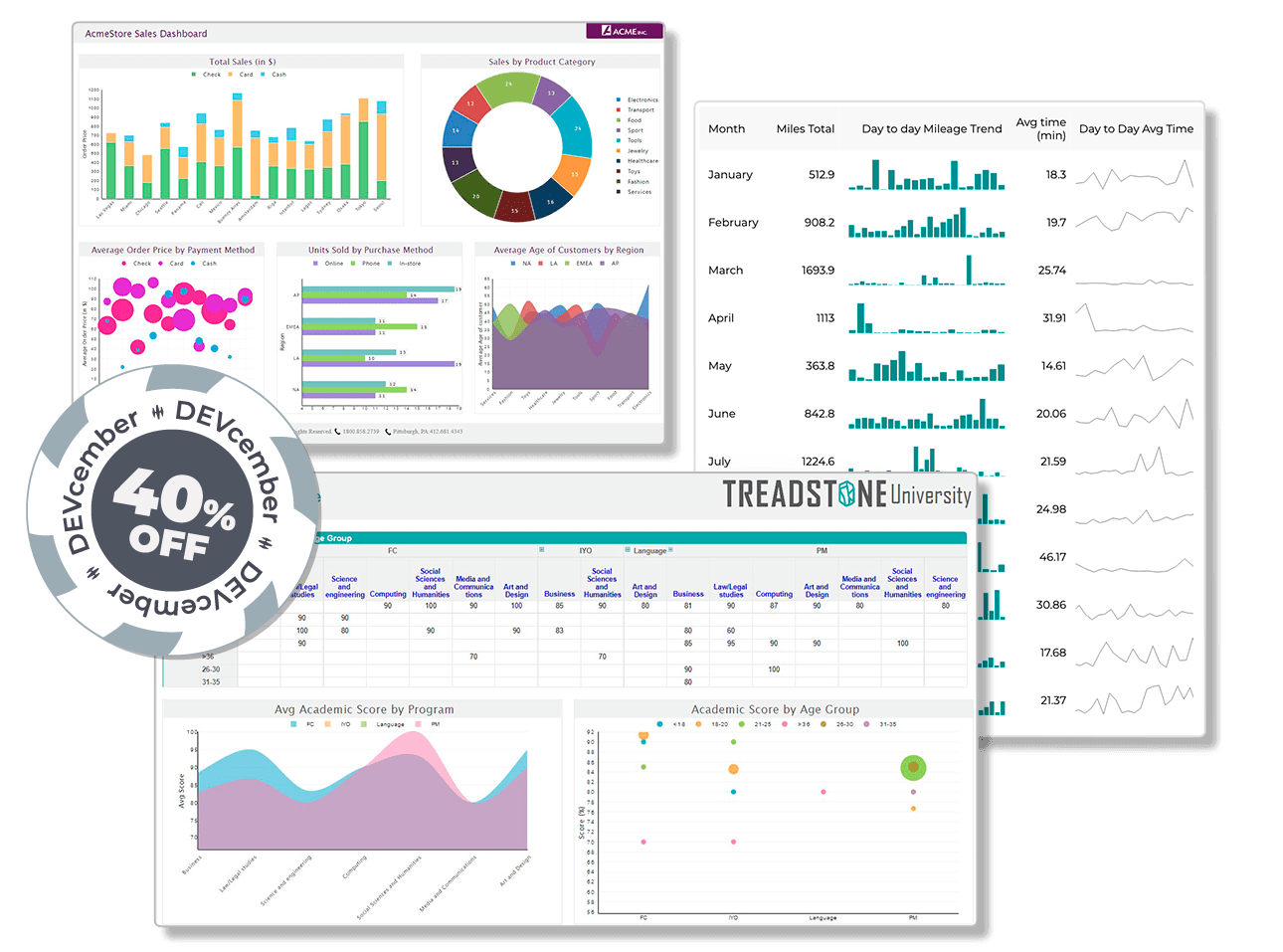 Customized Reports for Azure with ActiveReports.NET - The Leader in Azure Reporting Solutions
Design and deliver powerful reports with our intuitive, reliable, and user-friendly report designers and controls for ASP.NET Core and ASP.NET MVC.
Download Free Trial
Request A Demo
Overview
An Azure reporting tool is a set of web components used for data consolidation and visualization. ActiveReports.NET is a solution used by developers to embed reporting within web and desktop applications. Major features, including flexible report designers and viewers, rich controls, and extensive API, make ActiveReports.NET an industry leader.
EZ Report Designers
Empower users to create reports on demand by embedding the customizable End-User Report Designer in your .NET applications. Our intuitive designers are easy-to-use for both technical and non-technical report authors.
Host on Linux
Extend reporting to Linux or Windows cloud servers on Azure with ActiveReports.NET. As a cross-platform reporting solution with support for the latest .NET ecosystems, ActiveReports.NET lets you create and deliver interactive reports—without the need for complicated system configurations.
Functionality
Leverage the many Azure services and get the best cost performance with our powerful API. ActiveReports.NET gives you the flexibility you need to create highly functional enterprise-level applications.
Fastest Pace of Innovation
Like Azure, ActiveReports.NET lets you leverage the latest .NET technologies and innovate more quickly. With ActiveReports.NET, innovation comes at no extra cost with zero CALs or user fees.
Operational Expertise
ActiveReports.NET, similar to Azure, brings the experience, reliability, security, and performance you can depend on for your most important applications. For over 25 years, ActiveReports.NET has delivered an outstanding reporting experience to millions of users worldwide.
Rich Report Controls
Visualize your data with a wealth of feature-packed controls, such as Charts, Tables, Tablix, Barcodes, Sparklines, Maps, and more. Combined with multiple report types, ActiveReports.NET provides the means to design reports for any business need.
Deliver Beautifully-Designed .NET Reports in Less Time with the ActiveReports Designers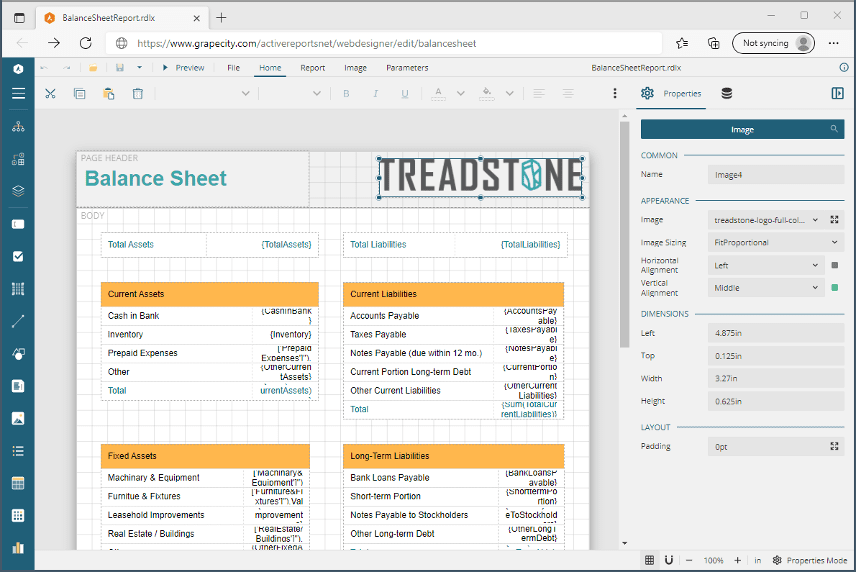 Ad hoc Report Designer for Web
These embeddable components enable you to build complete design-based reports code-free and offer ad hoc report design for your end-users in your web and desktop apps.
Easily create new reports with the drag-and-drop interface
Customize to fit your needs
Toolbox, Properties, Report Explorer, and Grouping panels built-in
Familiar, user-friendly, UI
Learn More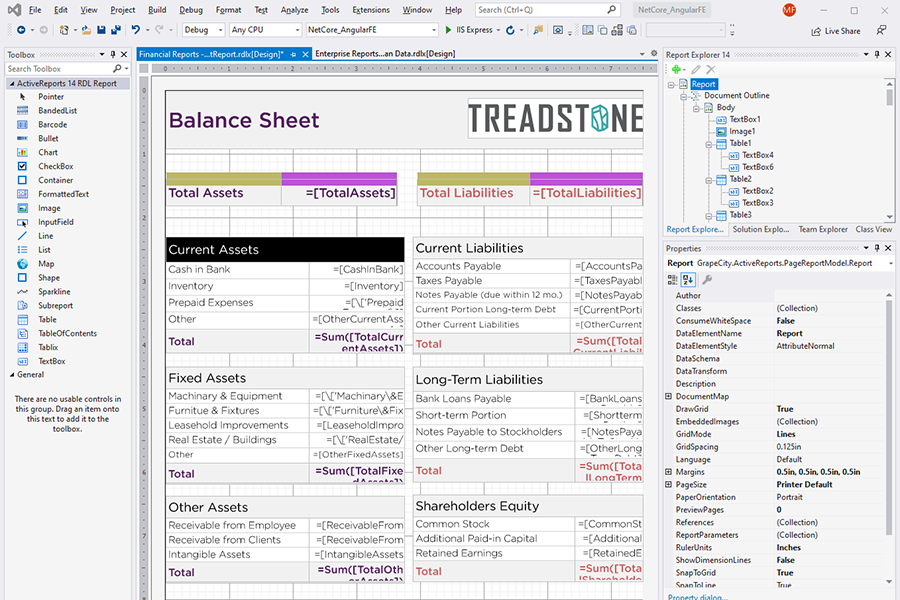 Visual Studio Integrated Report Designer
The Visual Studio-based designer includes full integration into the best .NET IDE.


Toolboxes and properties windows
Drag and drop controls to the design surface
Build code-based functions in the code behind
Available in ActiveReports Professional and Standard
Learn More
Our Top Azure Reporting Features
Featured Blogs and Videos
Customer Feedback and Awards
"Great software as always!"
BRIAN GOODRICH
"The GrapeCity products provide the tools my team needs."
BARRY BRINSON
"I cannot imagine developing reliable, robust, business applications without ActiveReports!"
JIM BULLINGTON
"We chose ActiveReports due to its full feature set, friendly licensing model for web-based applications, and ease of development."
AARON CHRISTIAN, DIRECTOR OF SOFTWARE DEVELOPMENT, ORION HEALTHCARE TECHNOLOGY
"I cannot imagine developing reliable, robust, business applications without ActiveReports!"
JIM BULLINGTON, JAMES BULLINGTON CONSULTING SERVICES
"Ease-of-use and the ability to have multi-level subreports were the two main considerations. ActiveReports stood head and shoulders above the other three products."
ROD PICK, SOFTWARE DESIGNER & IT MANAGER, MELMARC PRODUCTS
"The uniqueness of the ActiveReports products has helped to boost our sales which is always a good thing."
WENDY MATHIS, SOFTWARE ENGINEER, KNOWLEDGE RELAY
Trusted by the World's Leading Companies