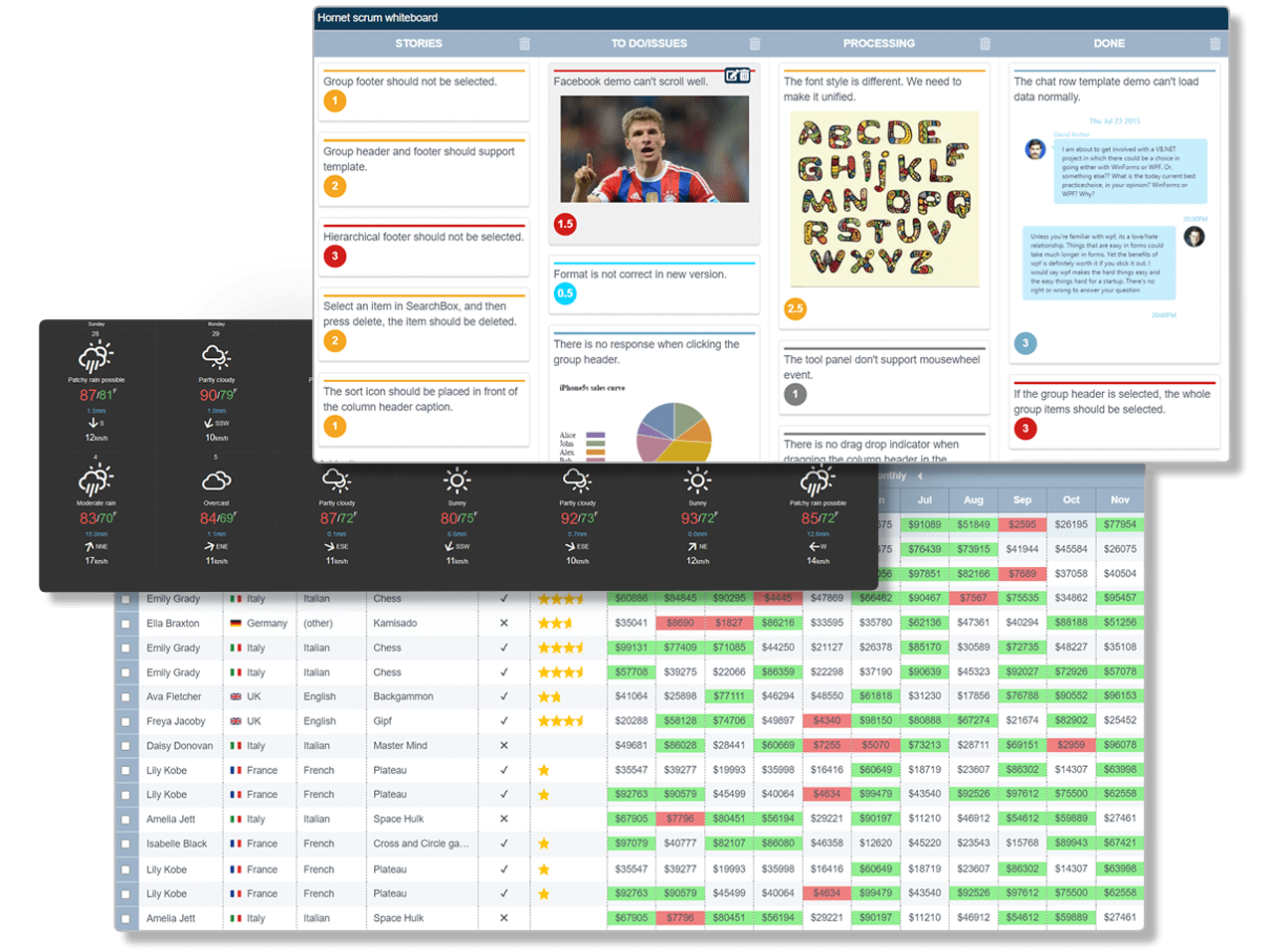 A Complete Angular Data Presentation and Datagrid Platform
Go beyond traditional tabular displays by choosing from a variety of different presentation views including tree, card, masonry, trellis, timeline, Gantt, calendar, and grid.
Download Free Developer License (V 1.8.16.1407)
Free Unlimited Developer Licenses! Only pay for Deployment
Fast! Pure Angular, optimized for speed
Choose from a variety of views including:
grids, cards, trellis, calendar, Gantt, news feed, timeline and more
Highly customizable
Change layouts with a single line of code
Benefits of Our Angular Data Presentation Controls
Angular Data Presentation
DataViewsJS enables you to easily and professionally customize the presentation of your data using different layouts,  row templates, data fields, calculations, and editing modes that are completely and easily customizable.
Powerful Calculation Engine
Leverage the powerful calc engine to perform calculations on any set of JSON data. With our calculation engine, your computing power is optimized for large data and complex calculations.
High Performance
DataViewsJS was designed from the start to be a fast, full-featured, and completely customizable developer tool for efficient data display and editing to meet any of your Angular application's needs.
Localization
Localized resources for Chinese, Japanese, and Korean are included with DataViewsJS. Additional languages can be easily added by creating your own resource files and setting them with simple script code.
Modern data presentation patterns such as those you see on social networks and other sites become easy when you use DataViewsJS interchangeable layouts.
Build advanced data views for your CRM, project management, social networking, eCommerce or any business application. Achieve ultimate flexibility by making layouts, row templates, data fields, calculations, and editing modes completely and easily customizable. Use DataViewsJS layouts for analysis, performance monitoring, data reporting, dashboards, product catalogs, eCommerce, news feeds, project management applications, and much more.
Top Features of Our Angular Data Presentation Controls
Allow users to edit data inline, with a pop-up form, or with a drop-down form. DataViewsJS will display fields in data appropriate controls such as text fields for strings and spinners for numbers. Each method is completely customizable, so you can make it look and behave the way you need.