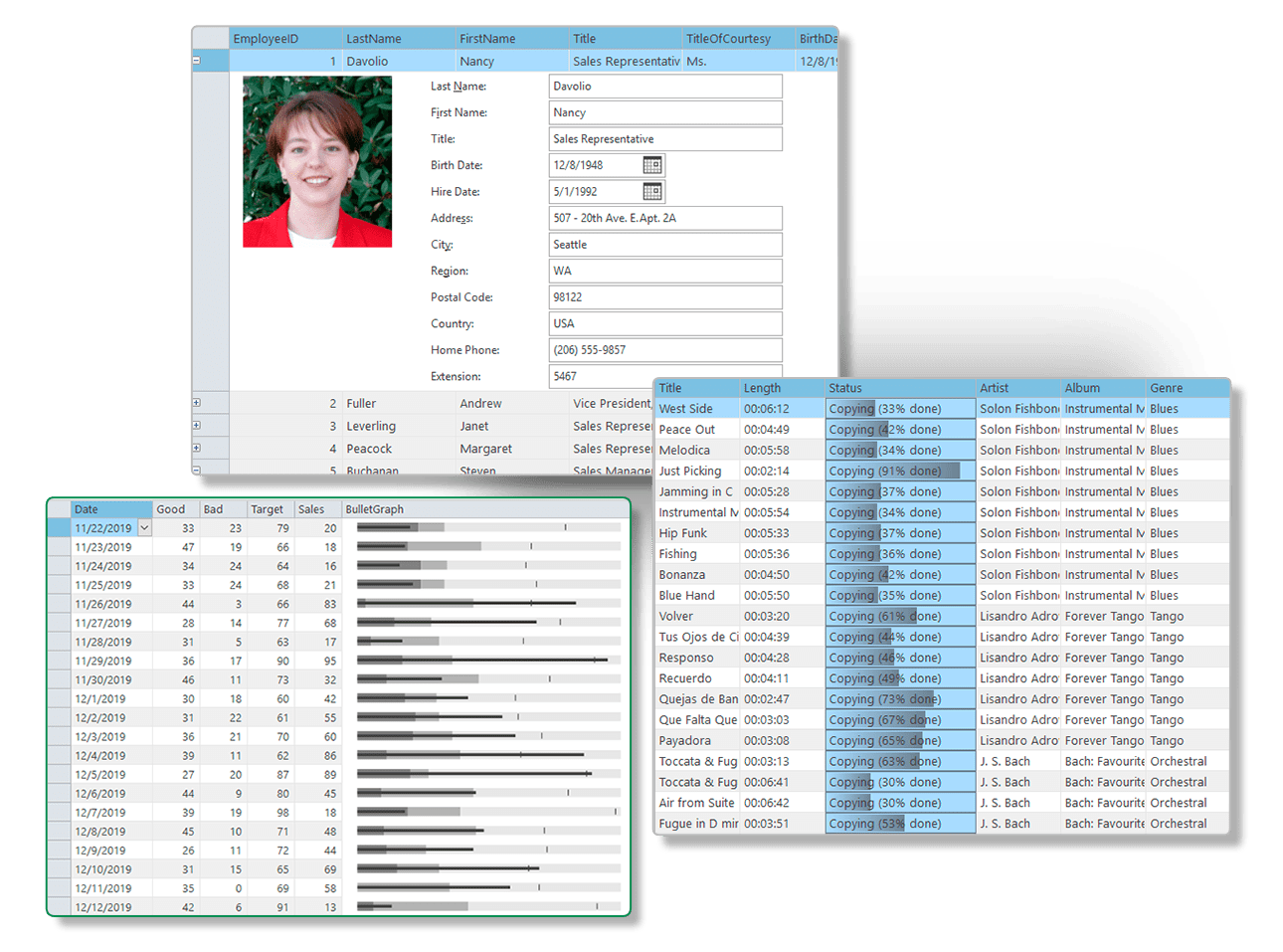 Industry's Best WinForms Datagrid Control
Power all your Windows desktop applications with FlexGrid, a fast, flexible and fully-featured WinForms datagrid control.
Edit, visualize and analyze tabular data quickly with fast loading of large data sets
Customize the datagrid with flexible cell styling, filter menus, expanded row details and more
Group, aggregate, and sort data all in one easy-to-use control with built-in features
DOWNLOAD FREE TRIAL
Overview
A WinForms datagrid is a user interface control for displaying, editing, and analyzing large data sets. FlexGrid is a WinForms datagrid optimized for high-performance and flexibility, enabling .NET developers to customize every aspect of the control.
Why Choose FlexGrid for WinForms?
Familiar, Excel-Like Experience
FlexGrid delivers features similar to Microsoft Excel, such as keyboard navigation and editing, so your datagrids will be intuitive for your end-users.
Write Less Code with Rich Designers
With easy-to-use Visual Studio designers, you can configure data binding, column layout, styles and additional features without writing a single line of code.
Flexible, Extensible API
Most WinForms datagrids will get you 70% of the way there, but FlexGrid's superior flexibility helps developers achieve 100% of their requirements.
Great for Working With Large Data Sets
FlexGrid is designed to aid large data sets with features like grouping, aggregation, and on-demand loading with virtual mode.
10x Faster and Small Footprint
FlexGrid is up to 10x faster at loading and scrolling than other WinForms datagrids. Plus its modularized assemblies won't bloat your app with unwanted features.
More than Just a Datagrid
FlexGrid can be used as a tree grid with hierarchical views, nested grids and subtotals. Plus, FlexGrid has been extended to support pivot tables and Gantt views.
WinForms Datagrid Key Features
Data Bound or Unbound
Get started quickly with automatic data binding to .NET data source objects or custom business objects. FlexGrid also supports an unbound mode, giving you complete control over creating each row, column, and cell value.
LEARN MORE
Improve performance and reduce load times for very large data sets with on-demand loading, where data is only retrieved as the user scrolls. This feature is also known as "just-in-time data loading" and is supported in FlexGrid through the DataCollection component.
LEARN MORE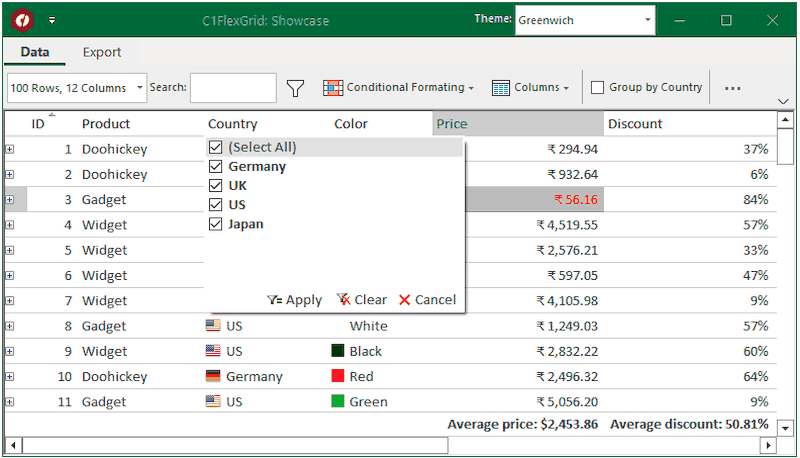 Excel-like Filtering
Enable filtering on any column's data by condition or value checklist. FlexGrid supports drop-down filters in the column headers like Microsoft Excel with special filter editors for different data types.
LEARN MORE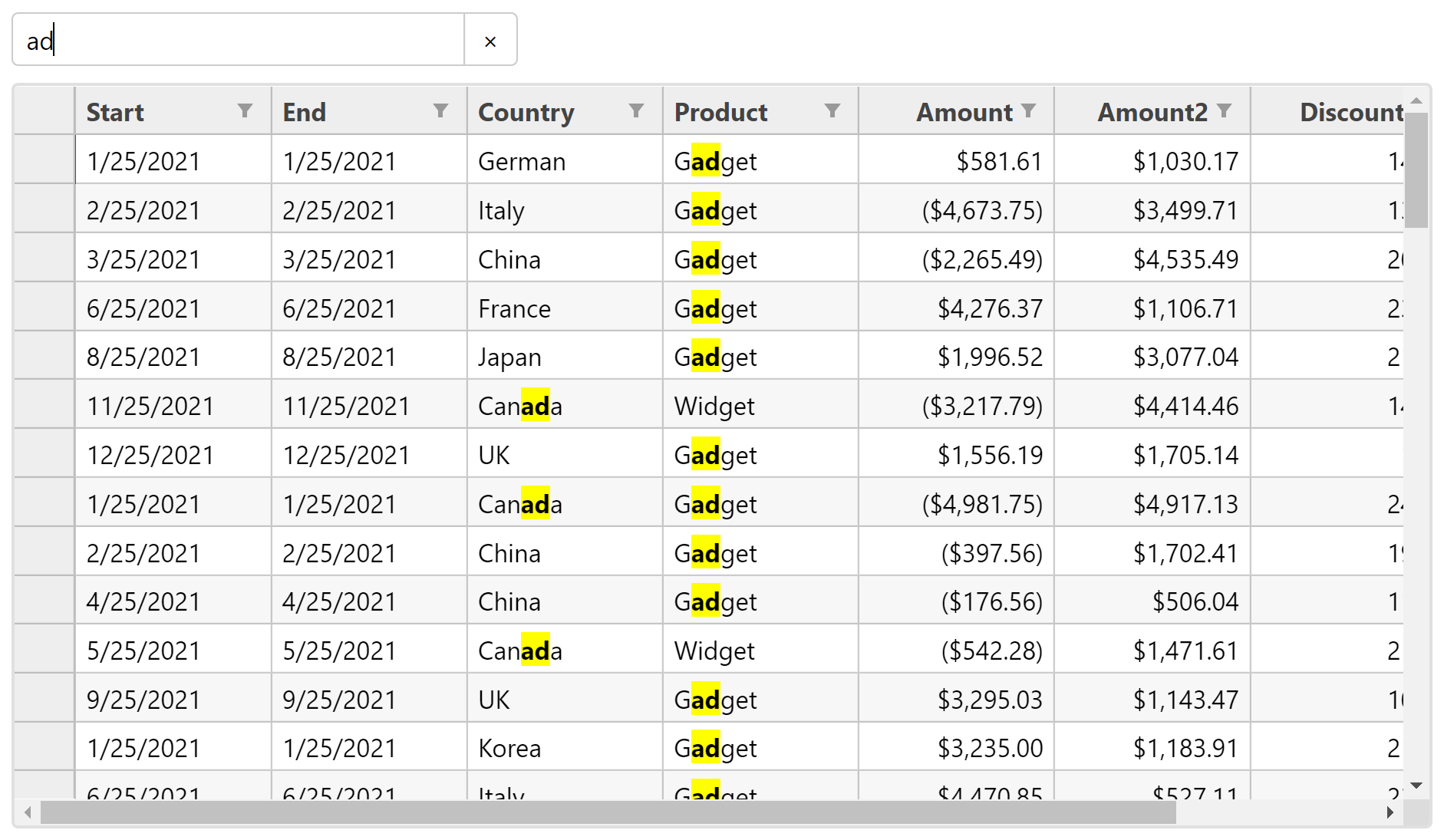 Searching
FlexGrid allows you to perform full-text filtering, or searches, on your data to show all matching instances found in the datagrid. Search the entire grid or just a specific column and then highlight all matching occurrences.
LEARN MORE
Desktop Demo Explorer
All of our WinForms demos are included in a single downloadable desktop explorer. Explore every feature and showcase demos using the Control Explorer demo. Plus, see the WinForms datagrid in action using the FlexGrid showcase demo.
DOWNLOAD DEMO EXPLORER
Featured Blogs, Videos, and Other Resources
ComponentOne Customer Feedback and Awards
"Prompt responses, quality feedback, and help with code examples. Fantastic service!"
RICHARD HERBERT
"Excellent product with good support"
MIKE WEBSTER
"I am very appreciative of the effort your entire team gave to make this transaction happen. Thank you for your efforts!"
SAM COLE
Trusted by the World's Leading Companies