Document Solutions for Word 30-Day Free Trial
Custom Code Your Word Documents in .NET 6+
Take total control of Word documents with the fastest Word API available for .NET 6+.
If you'd like to remove the watermark and other trial limitations, please email us.sales@mescius.com to request your 30-day evaluation key.
Try it Now!
Free download, no obligation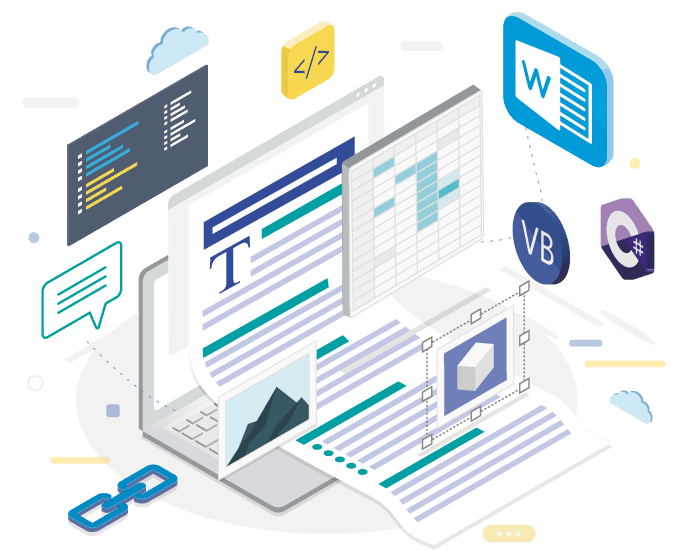 Generate Word documents, in less time—with no dependencies on Microsoft Word!
Fast and efficient: Save memory and time with the lightweight API architecture. The bigger the document, the faster our API, when compared to the competition.
Extract data from Word documents: Parse existing Word documents into databases or generate new Word documents as needed—extraction includes everything from text to paragraphs to images.
Simple, convenient object model: This all-new, feature-rich object model is based on Microsoft Office API, Word JavaScript API, and OpenXML SDK and was written to be straightforward and intuitive.
Full .NET support for Windows, Linux, and Mac: Develop for any .NET 6+ platform or major operating systems with a single code base. Use in your apps for .NET 6+, .NET Framework, Mono, Xamarin.iOS, and Xamarin.Android.
Convert Word to PDF: Quickly convert documents to PDF in code—a top use case for this fast API.
Deploy apps with Word to the cloud: Be everywhere with cloud-based deployment—with NuGet and Document Solutions for Word, you can deploy to Azure, AWS, and AWS Lambda.