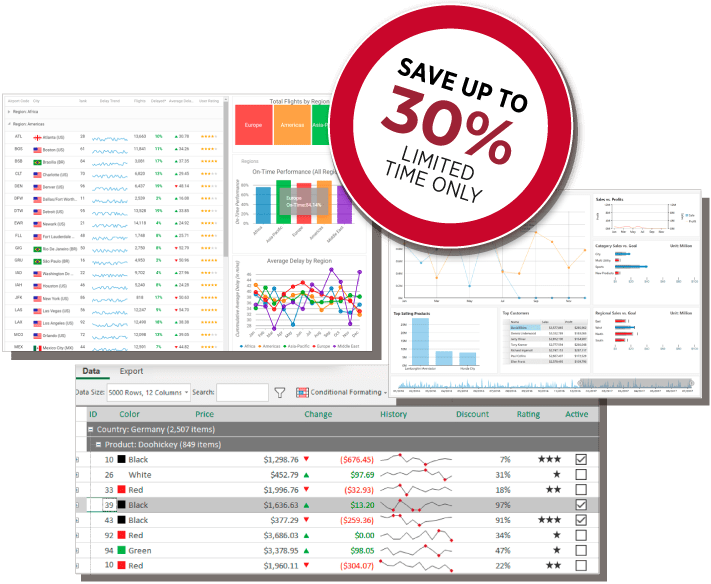 Relax & Save on ComponentOne Studio Enterprise!
Award-Winning .NET UI Controls for Mobile, Web, and Desktop
ComponentOne Studio Enterprise includes every ComponentOne UI control! Get an extensive, flexible collection of powerful .NET UI controls for WinForms, WPF, WinUI, ASP.NET MVC, Blazor, and more.
Plus, it includes JavaScript controls with Wijmo Enterprise, Web API, and data service components. With a Studio Enterprise subscription, you get all product updates for one full year from your date of purchase.
SAVE WITH PROMO CODE C1MAY23
Start Your Summer With Hot Savings On ComponentOne Studio Enterprise!
For a limited time, save up to 30% on ComponentOne Studio Enterprise! Experience GrapeCity's award-winning .NET UI Controls for Mobile, Web, and desktop.
Why Choose ComponentOne Studio Enterprise Edition?
400+ Feature Rich Controls
Expand your Visual Studio toolbox with hundreds of .NET controls like datagrids and charts.
Specialized Controls for Business Apps
Take your enterprise apps further with specialized controls for financial charting and BI/pivot tables.
JavaScript UI Wijmo Controls
Studio Enterprise subscribers gain access to Wijmo's JavaScript UI—featuring 100+ JavaScript UI controls.
Universal Data Management
Simplify your data layer with data service components for connecting, managing, and integrating data from multiple data sources.
.NET 7, NuGet, and VS Support
Build apps that target the latest version of .NET with seamless Visual Studio 2022 integration and NuGet package distribution for easy maintenance.
UI Controls for Every .NET Platform
Accelerate app development across most .NET platforms including WinForms, WPF, UWP, WinUI, ASP.NET Core MVC, Blazor, MAUI, and more.
Disclaimer: Discount valid 5/22/2023-6/30/2023. Offer valid on ComponentOne Studio Enterprise. Offer excludes Wyn Enterprise, and all other GrapeCity products including deployment and distribution licenses. Offer valid on new licenses only. Offer not valid through resell outlets. Other restrictions may apply. Not to be combined with other offers.