Introducing the New GrapeCity Support Portal
The Customer Engagement Team at GrapeCity has been known for providing industry-leading support to our customers over recent years. At the forefront of our approach is figuring out how to innovate within our support organization to make the experience even better for our customers.
After pouring over months of feedback collected through surveys and gathering an overall sentiment from our customer base, we identified numerous areas that could be improved. We decided that an overhaul of the way we provide support would be a great place to start. We have been hard at work turning wrenches on the backend to totally revise our strategy and infrastructure moving forward, and we think we've come up with something pretty cool.
Introducing the New GrapeCity Support Portal
First things first: We've totally redesigned our support ticketing system from the ground up to bring our customers an updated user experience with a bunch of backend improvements. These changes aim to create a supportive environment that is more intuitive and user-friendly for customers utilizing our products – all while creating a more organized space for our support team.
What is Changing?
The first change you'll notice is our new support portal, which is now integrated into the GrapeCity website. It has been redesigned with a fresh UI and UX that can be found in the My-Account section of the website once you're logged in. Now, all your open cases will be stored in one place for easy access and viewing. We've also made it easier to distinguish when your case has been responded to within our updated portal.
In addition to receiving an email update when your ticket status has changed, tickets with responses will be clearly marked to distinguish them from other tickets in your account. With the help of the new backend, future additional support changes can be implemented with ease, allowing the GrapeCity Support Organization to work more efficiently when assisting our customers. One of the more notable changes you'll notice is that customers will now be able to view and respond to their tickets on mobile devices thanks to a responsive mobile interface.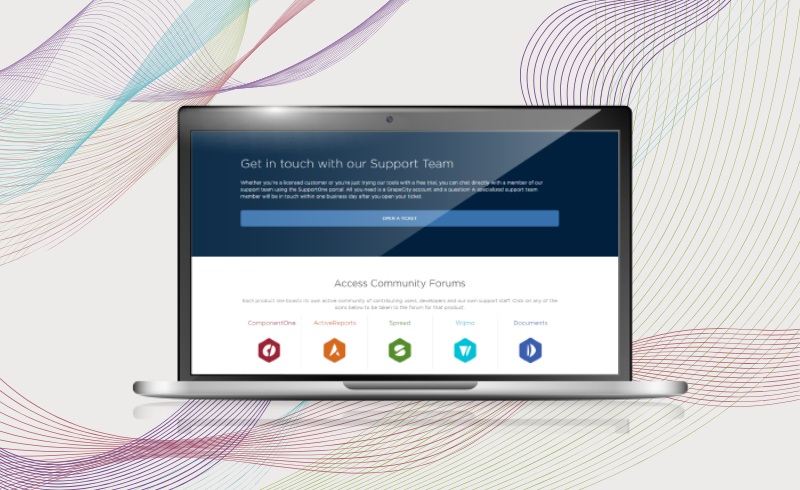 What Happens to My Old Tickets?
All of the tickets that you've created over time haven't gone anywhere. While they haven't been migrated to the new system, rest assured that our support team will continue to have access to archived tickets in our system. Should you need to access one of your older tickets, simply contact the Customer Engagement Team and provide us with the email used to create the ticket. We will then be able to look it up for you.
The old SupportOne portal will still be available via a link in your account section on grapecity.com for a few months. You will be able to visit and view archived cases, but you won't be able to create new cases in the old portal.
What's Next?
The first step is to head over to grapecity.com and either log in or create an account. This will ensure that you're ready for these changes once the new portal is launched. From there we will be continually improving the site and adding features over the next year, and a few will be game-changers, so stay tuned.
We also want to make sure that you love the new support experience, so if you see something you don't like about the system or have any suggestions, please send us an email at community.contact@grapecity.com, and we'll add it to the list for consideration. We'd love to hear from you, even if it's only for some honest feedback.
---